Wheel of Life – Personal Growth – Jackie Beere OBE
Streamed live on 18th January 2022 
https://www.youtube.com/watch?v=kGhFITAF5eY
Wheel of life interview – Romance with Johannes Fessler
Streamed live on 17th November 2021
https://www.youtube.com/watch?v=W7wBHw5OrPo&t=870s
Wheel of Life – Business and Career – Robin Waite
Streamed live on 24 November 2021
https://www.youtube.com/watch?v=LA0bUiN2IGA
Wheel of Life – Finances – Fanny Snaith
Streamed live on 2nd December 2021
https://www.youtube.com/watch?v=yo-SHl8cAMQ
Wheel of Life – Family & Friends – Andy Workman
Streamed live on 9th December 2021
https://www.youtube.com/watch?v=iagMUxCJp5U
Life Regression Live
Kelly Peffers' Past Life Regression Live
Streamed live on 20th December 2021
https://www.youtube.com/watch?v=8T2MiUIEz9I&t=72s
Past Life Regression Chat With Author, Poet & Storyteller Amelia Cotter
Streamed live on 25th October 2021
https://www.youtube.com/watch?v=M33NuA_qUIE
Past Life and Paranormal Experiences with Exploring The Afterlife and Nanny Lyn
Streamed live on 21st October 2021
https://www.youtube.com/watch?v=jSzeqp1qvBQ&t=80s
Richard Felix has Past Life Regression with Paul Goddard | The Ghost Voice
Streamed live on 11th October 2021
https://www.youtube.com/watch?v=XHVrRAelljg
LIVE Past Life Regression with Paul Goddard | The Ghost Voice
Streamed live on 31st May 2021
https://www.youtube.com/watch?v=KwkuubvZ6mg
Past Life Regression | Reincarnation | The Ghost Voice
Streamed live on 7th June 2021
https://www.youtube.com/watch?v=_z7_dDMS56I
Past Life Regression | Paul Goddard | Soul Reaper Paranorma
Date- 29th June 2021
Jayne Harris Past Life Regression LIVE! (Help my house is haunted – Paranormal HD)
Date- 3rd FEBRUARY 2021
https://www.facebook.com/HDParanormal/videos/1039515616571334
Past-Life Regression – Paul Goddard
Date: Wednesday, 01 March 2017
Time: 7.00pm – 9.00pm (2 Hours)
Payment Type – http://www.isbourne.org/search/68-communication/67685-past-life-regression-paul-goddard
In this talk Paul Goddard, clinical hypnotherapist, will take you on a new journey into the fascinating world of reincarnation and past-life regression. Hear more compelling stories from children who claim to have lived before. Take the opportunity to experience your own past lives through group hypnosis. This time volunteers are encouraged to come with writing materials so that any information brought up in the hypnosis session can be searched on the Internet during the interval. This talk is for both sceptics and believers and will investigate the age old question: do we survive physical death or not?
---
Authentic Communication – Paul Goddard
Date -Wednesday, 15 February 2017
Time – 7.00pm – 9.00pm (2 Hours)
Payment Type – Book Online – http://www.isbourne.org/search/68-communication/67628-authentic-communication-paul-goddard
Have you ever felt pressurised into doing something you didn't want to do? Buying something you didn't want to buy because you have been manipulated? If so, then this is the talk for you. Paul Goddard, clinical hypnotherapist and Master practitioner of Neuro Linguistic Programming, demonstrates how you can get the result you want but still be authentic. You will learn strategies beyond conventional NLP training and understand the core wants that drive all of us to act as we do. You will learn the tricks that the unscrupulous use so that you can avoid falling into these traps on the future.
---
My next event is on the 3rd February 2016 and is a talk on Past-Life Regression. It takes place at the Isbourne Holistic Centre at 7pm-9pm, and costs £7.50. Follow the link here for a shortened talk on Past-Life Regression.
Please buy your tickets from the Isbourne Holistic Centre once ticket sales have opened. Keep up to date for ticket openings on my Facebook page; Paul Goddard NLP and Hypnotherapy.
Isbourne Holistic Centre,
Isbourne House,
3 Wolseley Terrace,
Cheltenham,
GL50 1TH
For more information contact:
Paul Goddard NLP Master Practitioner & Clinical Hypnotherapist
01452 525050 / 07763259736
paul.goddardnlp.co.uk
www.paulgoddardnlp.co.uk

I can also be found at Pilgrims on Wednesday and Friday afternoons.
Pilgrims Mind Body and Spirit
College Court, Gloucester, GL1 2NJ
Below you can find some of my previous workshops and events. If you are interested in having me at one of your events, then please contact me. I can also work with businesses for their away days and performance enhancement workshops.
Awaken Your Potential
A Self-Development Workshop 

11th May, 2013
10:00am – 4:00pm
Simple steps to increase your confidence & self esteem
Tools to create positive changes in your life
How to use body language and your voice to increase rapport
How to develop the mind-set of an achiever
How to use NLP to take on positive strategies of your own heroes
Find out how others have succeeded despite the odds
A Hypnotherapy CD with pdf workbook was included.
This workshop was held at The Cheltenham Chase Hotel, Shurdington Rd, Brockworth 11th May 2013, 10am till 4pm. £50 with tea, coffee and lunch provided.
Motivational Techniques Workshop
Gloucester Guildhall January 2011
Running a motivation course at the Gloucester Guildhall.
£40.00 for four 2 hour sessions to help you make your new year's resolutions last.
This course (Motivational Techniques) will be starting Monday 10th January, 2011 through to 31st January, 2011 7pm 'til 9pm.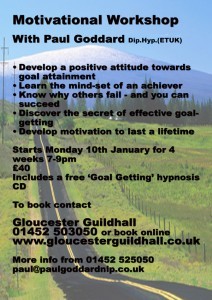 Venue:- 
Gloucester Guildhall 
23 Eastgate Street 
Gloucester GL1 1NS
Motivational Techniques Workshop
Gloucester September 2011
I ran a motivation course at the Gloucester Guildhall at only £40.00 for the day. This course (Motivational Techniques) was on Saturday 10th September, 2011 10am-4pm.
Develop a positive attitude towards goal attainment

Learn the mind set of an achiever
Discover the secret of  effective goal setting
Develop motivation to last a lifetime
Know why others fail – and you can succeed
Venue:-
Wheatstone Hall,
City Museum,
Brunswick Road,
Gloucester.